Who is American Actor Tyler Hoechlin? Know More About HIm!
Details on Teen Wolf and Supergirl Star Tyler Hoechlin!
Who Is Tyler Hoechlin?
Tyler Lee Hoechlin is the new handsome face behind our favorite superhero from Krypton, who has fans raving not just about his astounding performance but his good looks as well. Born on September 11th,1987, in California, to Lori and Don Hoechlin, Tyler practically grew up in front of TV cameras. Hoechlin was raised with his two brothers, Tanner and Travis, and a sister Carrie in a normal American household with values reflecting his family's Native American, Irish, and German heritage.

Tyler was bitten by the Hollywood bug at a very young age and has never stopped acting since. He actually got into acting because he wanted to make some extra cash to buy video games. Not a sizzling motivation I know but back then he was just a normal third-grader. Though he had appeared on TV commercials as a baby, this was when he consciously took up acting. Tyler has come a long way since then and has made a name for himself in the big leagues in both TV shows and film. We have tried to trace his journey to fame all the way from commercials as a baby to Disney Sing-Along Songs video, TV shows, and the big screen, this is what it looks like.
What Is Tyler Hoechlin Famous For?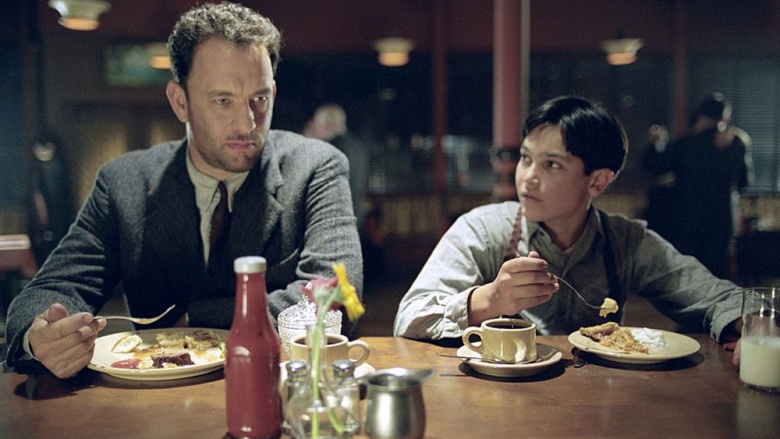 A scene from Road To Perdition 2002
Tyler first gained recognition in 2002 for his role as Michael Sullivan Jr. in the film Road to Perdition, alongside Hollywood big name Tom Hanks. He played the role of Hanks' son and acquitted himself beautifully alongside his megastar on-screen dad. Tyler got multiple nominations and earned a number of awards for this role, which was a great exploit for a kid that young. He later went on to star in the popular television series 7th Heaven between 2003 and 2007. Portraying a character known as Martin Brewer, a high school baseball prodigy trying to get a scholarship for college while navigating the death of his mother, and the deployment of his marine father.

When 7th Heaven ended, he moved on to other small roles in much different television series, for instance, CSI: Miami, Castle, and My Boys just to name a few. He also appeared in movies like Hall Pass with Owen Wilson and Christina Applegate, Grizzly Rage, and Solstice. During this period Tyler also played baseball and attended high school and college parallel to his acting career.

In 2011, Tyler hit the spotlight once more in a big way with his role as a sexy werewolf called Derek Hale in the MTV hit show Teen Wolf. In which he starred as a regular alongside teen favorites Tyler Posey and Dylan O'Brien for four seasons and a guest star for a guest star in the final season. That same year, he was ranked 3rd on the list of TV's 100 Sexiest Men of 2011 by BuddyTV.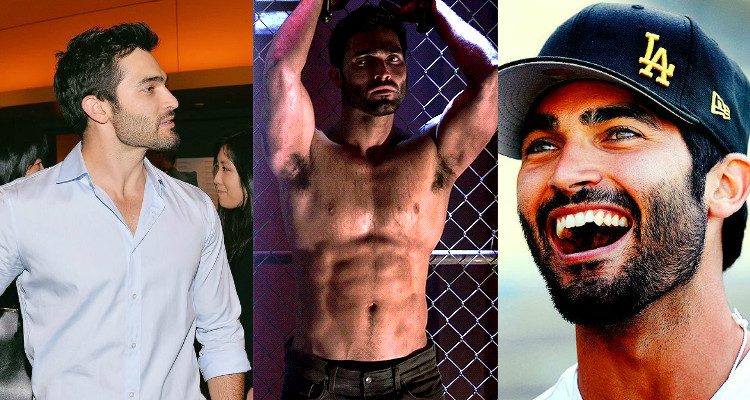 Hoechlin left Teen Wolf after four seasons to pursue other film projects, he landed a role in the critically acclaimed movie Everybody Wants Some!!, a baseball comedy by Richard Linklater. He also appeared in Undrafted, another baseball film, and Stratton, a military thriller in 2017. Tyler Hoechlin went ahead to be cast on Supergirl as Superman, the producers of the show knew and loved him so much he didn't even need to audition for the role he was cast on the spot. His take on the role has been highly praised by critics and fans, he also received several nominations for his interpretation of the role. He also wore the superman costume for a number of crossover episodes of Arrowverse and The Flash.

Hoechlin has been nominated for numerous awards over the years and he has won quite a number of them. He was awarded the Saturn Award for Best Performance by a Younger Actor for his role in Road to Perdition, 2004 Teen Choice Award for Breakout Male Star for his role in 7th Heaven, Best Ensemble award at the 2013 Young Hollywood Awards with his Teen Wolf co-stars, the 2014 Teen Choice Award for Choice TV Male Scene Stealer for his role as Derek Hale. Tyler can boast many other prestigious awards over the course of his career.
Is Tyler Hoechlin Married?    
Tyler Hoechlin is not too keen on putting his love life under the spotlight, he's known to be quite private when it comes to matters of the heart. However, it is known that in 2020, Tyler is still single though he has had a number of high-profile relationships over the years. In 2010, he was often seen in public with Glee dancer Rachele Brooke Smith, with whom he later revealed he was in a 2 years relationship.

Tyler also dated The Vampire Diaries' Candice Accola King, Ashlee Simpson, and model Alena Gerber with whom he was spotted vacationing in Rome. He once said in an interview that greatly believes in open and honest communication in his relationships, these were his exact words "When it comes to relationships if there is something bugging you, instead of trying to pretend like it's not, it's better to make it known and deal with it as opposed to letting it turn into something bigger while the other person has no idea." He is also a romantic who admitted to having taken his date to spend a weekend by the beach in Hawaii.
What Does Tyler Hoechlin Do Aside From Acting?    
Before going into acting full time, Tyler Hoechlin used to be a talented baseball player. He started playing at the age of seven until college. His roles during his high school years and part of college were scheduled around his baseball matches. He played in the Area Code Games of 2004 and 2005, for the Arizona State Sun Devils and University of California -Irvine at one point, he even turned down a role in the Twilight franchise because of his busy baseball season. He had great dreams of pursuing a professional baseball career but unfortunately came down with a hamstring injury that ended his baseball career, pushing him into acting full time.

Hoechlin was given a baseball scholarship to Arizona State University, where his team made it to the College World Series in Omaha, Nebraska. He later transferred to the University of California, Irvine where he played as a second baseman in collegiate summer leagues. After his injury, he focused on finding new and exciting roles to advance his acting career. This is what he said in an ESPN interview "Because of baseball, I was putting acting on the backburner. It was like an answered prayer. It was like the decision was made for me. I wasn't going to quit until someone told me to stop."
What Is Tyler Hoechlin Working On Now?    
It has been confirmed that Tyler will be the lead star in the next Superman & Lois, alongside Bitsie Tulloch in 2021. The series will be a Supergirl/Arrow spin-off, and fans are eagerly waiting for him to put on their favorite blue and red suit. Hoechlin recently featured in the Fifty Shades Freed sequel as an author called Boyce Fox. Another recent work of his is the film ''Can You Keep a Secret?'' in which he appeared next to Alexandra Daddario as Jack Harper. He was also cast in Fifty Shades Darker but never made the final cut.
His role in Supergirl is still ongoing and it seems Tyler will be putting on his superhero costume for a long time.
Related Article: Dylan O' Brien: Top 10 Stunning Pics Of 'Teen Wolf' Actor

Dylan O'Brien is one of Hollywood's biggest up and coming actors. Here are ten Instagram pics of the young star every fan needs to see.
Summary
Tyler Hoechlin has a reputation of always getting into his characters with everything he has got, even it means growing a mustache like in Everybody Wants Some!! or as a werewolf in Teen Wolf. He completely embodies his roles no matter how challenging and complexes they might be. He has even had to live together with his co-stars Tyler Posey and Dylan O'Brien for some months while filming Teen Wolf.

From every indication Hollywood has not heard enough from Tyler Hoechlin, his career is still on the rise especially considering how young he is and the kind of roles he takes on. Tyler Hoechlin is without a doubt part of the new generation of actors that will take over Hollywood in a few years to come.